Overnight oats. I love overnight oats for a grab and go options that is super easy to have ready to go for a solid, protein filled breakfast. There are SO many different varieties of recipes you can find for these, & it kind of depends on what type of consistency & flavor you like with your oats, but one of my favorite chocolate combos is:
1/2 cup of old fashioned oats + 1 scoop of protein powder of choice + 1/2 cup of unsweetened vanilla almond milk + 1/4 cup non-fat plain greek yogurt + 1 TBS unsweetened cocoa powder + 1-2 packets of stevia. Mix all of this together and cover. Put in the fridge overnight, and it will be ready for you to eat in the morning! On top of that you can add nut butters, PB2, some cacao nibs, sliced up berries or bananas, etc. You get it. It's delicious.
Protein no bakes. This is another recipe that I use when I am really needing a little something sweet. It's quite possibly the easiest recipe in history, and they taste good. You can find the recipe HERE.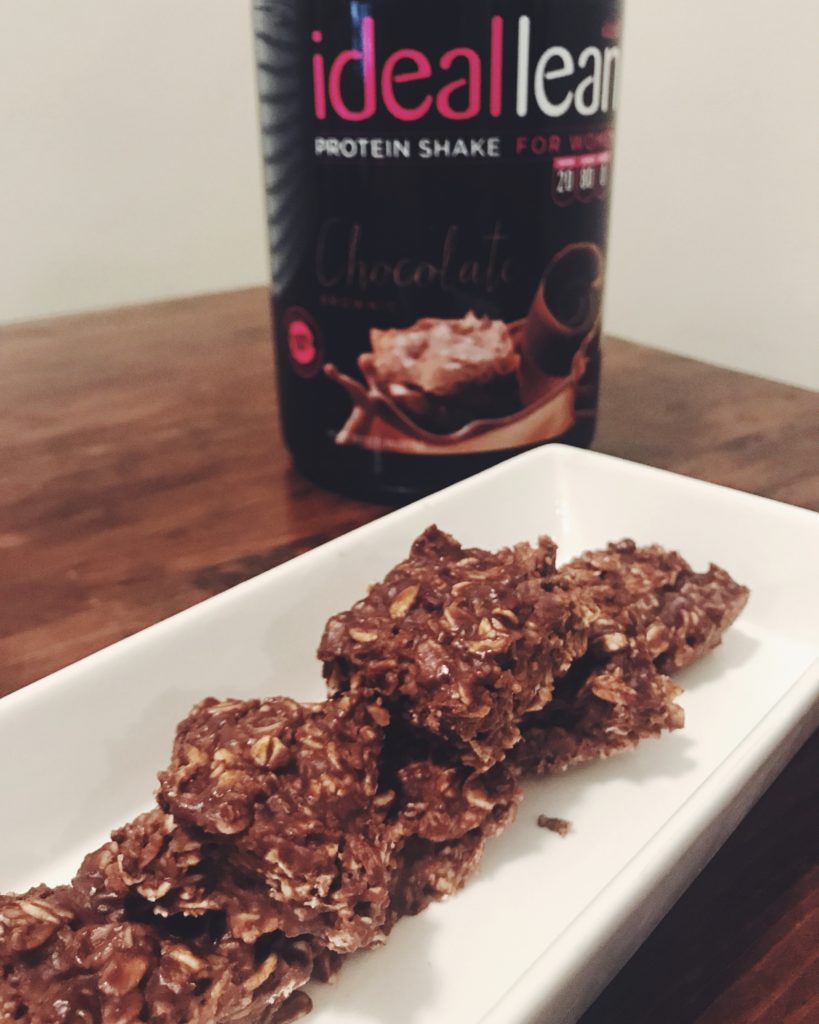 I've given these to people who didn't even realize they were healthy…the best taste test you can give. They are also great to throw in the fridge or freezer to keep for the week.
Greek yogurt parfaits: This is another SUPER simple way to get some protein in, and it can even be made into a lil' late night sweet snack that you can use to curb that sweet tooth.
Combine: 1/2 cup of non-fat plain greek yogurt (get a kind that has no sugar in it) + 1 scoop of your favorite protein powder. That's it. Super simple. I usually add a couple of packs of stevia, because I like things sweet. Flavor-wise, I usually go chocolate brownie here, because that's delicious. But, you can really do anything. You can add to that a drizzle of PB2, some low fat/low sugar granola, some chopped up berries, bananas, or whatever else you feel like will make it taste amazing.
There are all sorts of recipes you can find online to utilize your protein in different ways, but these are just a few of my favorites that are simple, & they actually taste good! Clearly, I have a thing for chocolate & peanut butter…BUT…It's all about finding what works for you!
xoxoxo Megs

Pages: 1 2