The Best Things to See & Do In Amsterdam
I also had a regular pancake with nutella & bananas. This was basically a really big crepe. It was delicious! Whitney loved their hot chocolate and fresh squeezed orange juice as well.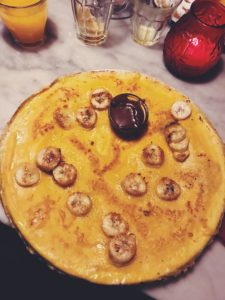 Go here. You will not regret it.
Stroopwaffle
 – You need to try these at least once while you're in Amsterdam! They have them all over, but make sure you get them from someone who is making them fresh.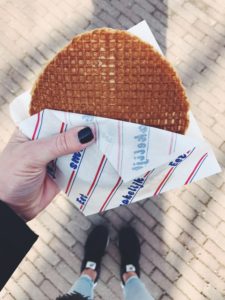 We got ours from a food stand that was right by the IAMSTERDAM sigh. It was tasty!
Foodhallen
 – You have to go here at least once while you are there. It is basically like a big hall full of food trucks. There are so many different options of things to try there.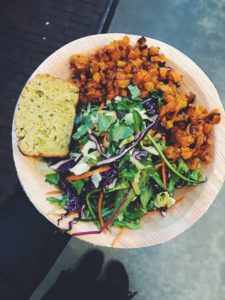 i wanted to try everything! I ended up getting a salad from a place called Fento, and Whitney got tacos from the Mexican place next to it, as well as some Sushi. It was all divine!
The Avocado Show
 – I'm still bummed about this because it looked SO good. Every dish somehow incorporates fresh avocado. We got here an hour and a half before it closed, waited for an hour, we we were next on the list, and then found out that they close the kitchen a half hour before the restaurant closes.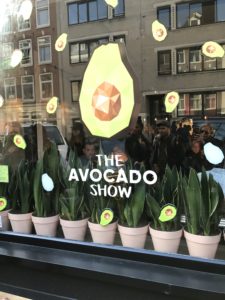 So, we didn't get to eat there. I was way bummed. Try and go there, but go for lunch to be sure you get in!
Ice Bakery
– This place was bomb. There are a few of them throughout Amsterdam. it's a dessert place where everything somehow incorporates nutella. SO GOOD. We walked by one place that had frozen yogurt , and then we ended up eating at a place that had gelato.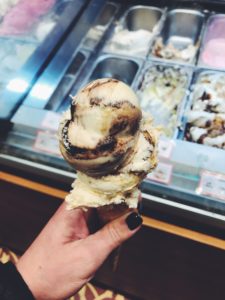 The gelato was so good! I got a stroopwaffle flavor, and it was WAY good. Other flavor favorites were the nutella, the homemade oreo, & the american cookie.
Pages: 1 2