Prague was absolutely incredible. I have seen pictures of this dreamy little place for so long, and I've always wanted to go there. However, I really had no idea what to expect when we got there. It was absolutely beautiful. I thought it was so quaint, and the most amazing mix of old and new…and by old I mean REALLY old.
The first thing we did in Prague was the Rick Steve's walking tour. As cheesy as this may seem, it was actually an awesome way to see the city. I think I wouldn't have known exactly where to start otherwise. It's free to download his app, and tours. He does a great job of guiding you through the city. You end up hitting a lot of the things that were on my list to see. I would totally recommend downloading this if you are ever in Prague. It was super interesting, and very easy to follow. Almost everything in Prague is within walking distance, which makes it really easy to see. Plan on walking a lot.
Things to see:
Wenceslas Square
 – This is what they consider "new town," in Prague. You can stand at the top of the square and look down all the busy street.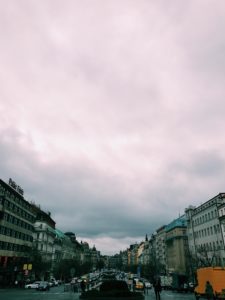 This square leads down to some other streets filled with awesome shopping, restaurants, & the rest of the newer part of Prague.
Old Town Square
 – This was one of my favorite spots. Here you have buildings from centuries ago, colored housing that makes a beautiful backdrop.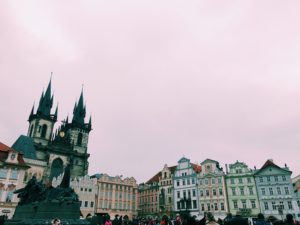 There are street vendors, performers, places to eat, and lots of historical things to see.
Anatomical Clock
 – This clock is located in the middle of old town square. It was made in the 1400's, and is pretty darling.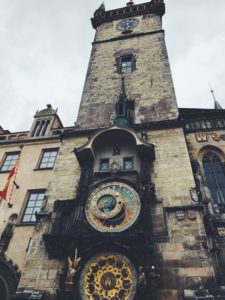 Wait around to see it strike on the hour.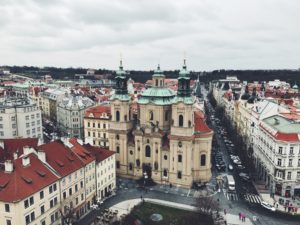 Go up in the clock tower! It's super cheap to do so, and the view is absolutely amazing. So worth it!
Church of our Lady before Tin
 – We didn't go in here, but you can see it from the Old Town Square. It's a really pretty church. 
Powder Tower
 – You can actually go up in this tower as well, but we didn't do so.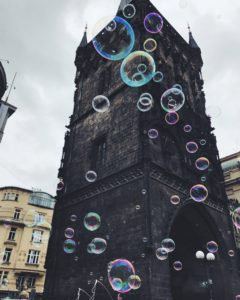 This building sticks right out, an extremely old building among the new.
The Franciscan Garden – This quaint little garden would be an amazing little spot to sit, and enjoy some gelato or a drink. It was raining when we were there, so we didn't spend much time there. But, i can imagine on a pleasant day it would be a great place to hang out!
Municipal House – You can walk in here, and look around. It's a really pretty building. They also have concerts, ballets, operas, etc. here at night if you are looking for something to do!
Karlova Street
 – This street is full of street venders, and lots of food.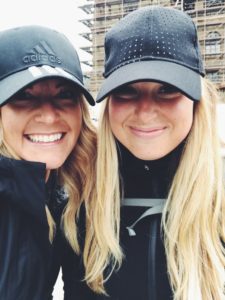 It's fun to see all of the people wandering though. This will also lead you to the Charles bridge if you follow it!
Charles Bridge
 – This bridge is amazing. We ended up walking over it a few times, and I loved it every time.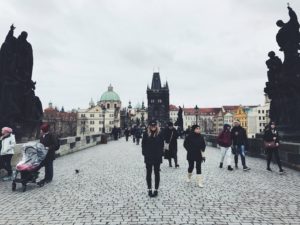 One of the statues has a dog at the bottom, and they say if you rub it, it is good luck.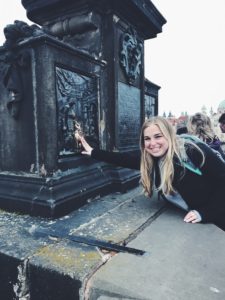 Petrin Tower & Petrin Hill
 – The hike up to the Petrin tower is a steep one. They have a tram that goes up there as well, but we walked it.
Once you get up to the tower, climbing the spiral steps to the top gives you an insane view of all of Prague. It's gorgeous. Worthy every step. There is another funny little building at the top of Petrin Hill with a mirror maze in it. It's only a couple dollars to go in, and it's pretty funny.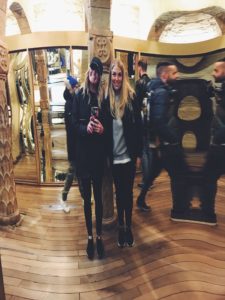 Prague Castle/St Vitus Cathedral
 – It's a hike to get to the top of the castle, but it's amazing. The cathedral inside the castle is a gothic building with surrounding stained glass windows that are breath taking.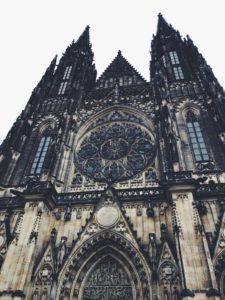 Parts of the castle that are still there date back to midevil times, which blows my mind.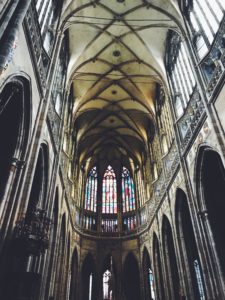 Starbucks at the Prague Castle
 – While you are up at the Prague castle, best sure to stop by the lookout from the Starbucks on the cliff.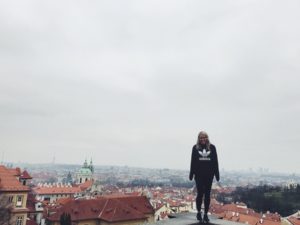 It's another uninterrupted, breathtaking view that I couldn't get enough of.
Mala Strana & the Lennon Wall
 – Mala Strana is the neighborhood on the same side of the Charles Bridge as the Prague Castle, & the Petrin Tower.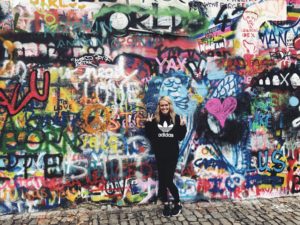 The Lennon was is a fun picture spot!
Things to eat:
Trdelniks
 – These are absolutely everywhere. It's basically cinnamon sugar swirled bread made into a hollowed out roll. You can get them lined with nutella, filled with whipped cream, custard, or ice cream. I'd just be sure that wherever you are buying them from is making them fresh! We tried one just hot with nutella, and it was delicious.
My VERY favorite was the one I had lined with nutella, & filled with chocolate soft serve ice cream. If you don't try these while you are in Prague, you're CRAZY.
Neb.o 
– We actually ate here twice. It's a Thai restaurant that was right by where we were staying, and Whit LOVED it.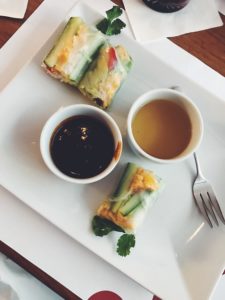 We tried the pho, pad thai, spring rolls, & fresh rolls. All were delicious, and super fresh!
Paul's
 – This was a chain they had in Paris, and after we just come from there we were still looking for chocolate croissants that might be worth our time.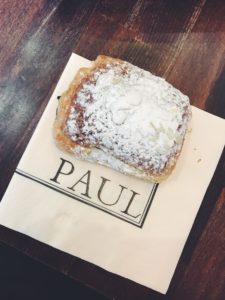 We ended up eating breakfast here, and it was good!
Captain Candy
 – I have a weird obsession with candy shops.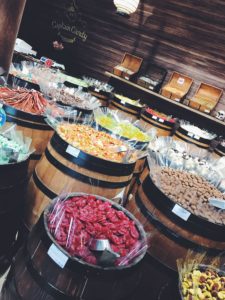 So, when we saw these everywhere we had to stop in. They have all sorts of Haribo goodies that were delicious.
Some other suggestions that people gave me that we never made it to were Pekarna Kabat for kolaces, Cafe Louvre, Pernickuv (a bakery for kolace & gingerbread), Mama Coffee, & Pizzeria Manna.
Prague was such an awesome city. I think the best thing to do there is to just planning on walking all over, and try to take as much of it in as  you can!