I have always been a lover of all things Mexican food…There is just something about the flavors that call to me, I guess. I would say that prior to switching over to a Keto way of eating, I was probably eating some sort of Mexican food like 4-6 times a week, and that might be an underestimation. I realized the other day that I miss those flavors! I have enjoyed the new palate that I've been eating these past few months. However, I was in the mood for something Mexican…SO, between that thought process, & the mounds of snow piling up outside my window…I decided to come up with a new soup recipe. I was pumped with how this turned out. (I will also say that I fed this to my friends, and there wasn't a drop left…so keto or not, I think everyone was on board.)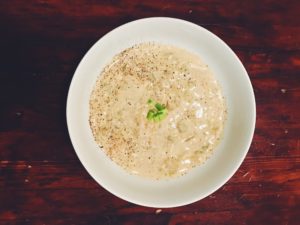 CREAMY GREEN CHILE CHICKEN SOUP
INGREDIENTS:
two 4 oz cans of Hatch's green chiles (I used mild, but if you like spicy food you could use medium)
one 12 oz bottle of Victoria Green Taco Sauce (again I used mild here)
two 12.5 oz cans of Kirkland brand chicken breast (you could use a rotisserie chicken or cook/dice your own chicken if you would rather)
8-12 oz chicken broth (depending on how thick you want your soup to be)
1 1/2 tsp cumin
1 tsp chili powder
1 1/2 tsp onion powder
1/2 tsp salt (more if needed)
1/2 tsp ground black pepper
12 oz cream cheese
2-4 tbs heavy cream (again depending on how thick you want it to be)
Combine all of these ingredients into a crock pot & cook on high for 1-2 hours. All of the ingredients are cooked, so it's just a matter of everything combining, & the flavor coming together. If you were needing to leave this to cook while you are doing other things, you could put it on low for longer.
INSTANT POT UPDATE: This recipe can easily be made in the Instant Pot if you need to speed things up! Simply place all ingredients in the instant pot, & cook on high pressure for 18 mins.
Top this with shredded cheese, avocado slices, sour cream, or whatever else you might like!
For those who are trying to keep this meal ketogenic, check the chiles and taco sauce you are using. Some brands sneak some sugar in there. You want yours to only have 1-2 carbs. Enjoy!