Since I've started this Keto eating process, I think this recipe has become one of my favorites. It's SO easy, filling, & very versatile as well.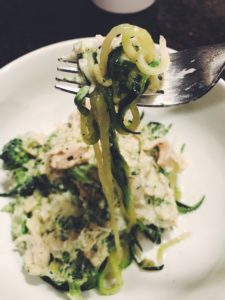 CREAMY CHICKEN & BROCCOLI ZOODLES
Ingredients:
3-4 cups of broccoli florets
3-4 cups of cauliflower florets
2 TBS coconut oil
chicken broth (if needed)
1/2-1 TBS basil
1/2 -1 tsp garlic salt
1/2-1 tsp onion powder
1/4-1/2 tsp ground pepper
4 oz cream cheese
1/4-1/3 cup heavy cream
1/4-1/2 cup grated parmesan cheese
7-8 oz of cooked chicken (you can use a Costco can of chicken breast if you want to speed things up)
2 TBS butter
4-6 cups zoodles (1 medium zucchini makes about 1 cup of zoodles)
In a large saucepan, combine broccoli florets, cauliflower florets, & coconut oil. Add to that the basil, garlic salt, onion powder, & ground pepper. Cover & cook until broccoli & cauliflower are cooked through. If you need more moisture, add some chicken broth to the veggies. You really could add any vegetables here, making this dish super versatile. While the broccoli & cauliflower are cooking, cook the zoodles in a separate saucepan. Combine the butter & zoodles over medium heat. Season with some salt and pepper. These don't take too long to cook, so be sure not to cook them too long. Once they start to become see through, take them off the heat, & they'll finish cooking while the rest of the dish finishes.
Once the broccoli & cauliflower are almost completely cooked, add in the chicken, cream cheese, heavy cream, & parmesan cheese. Stir together, until combined. Do not over stir, or the veggies will become mush. Taste, and add more of the seasonings if need be.
Serve up the creamy veggies & chicken over zoodles, & enjoy!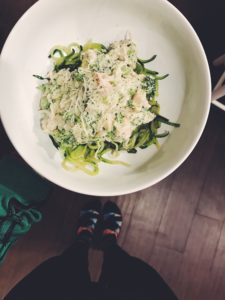 g This dish actually reheats really well. It's a crowd pleaser! Low carb, gluten free, full of flavor, keto-friendly, & SO delicious!!