Well. As promised…I've finally collected some of my thoughts on this process I've been going through. I hope it answers some of your questions. Chances are it will raise some new ones for some of you, which I hope to be able to answer. Here goes nothing. 😉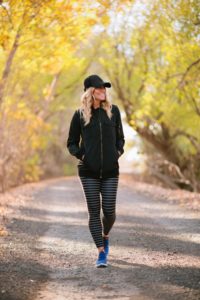 I've taken my time writing this post for a variety of reasons. One, I wanted to be sure I had a firm grasp on the process that I've been going through for the past 9 weeks. Two, I wanted to understand the science behind it. I hate fad diets. In fact, I actually HATE the word, "diet." I believe in lifestyle changes; in sustainability. If a crazy attempt at weight loss isn't sustainable. I won't endorse it. End of story. Lastly, I wanted to wait and see how my body responded to this process before I gave you the full rundown. I can tell you honestly, I feel like this lifestyle might be the answer to many problems, weight loss issues, & overall health concerns for a lot of you. I'm still in the thick of it, no question, but I want to share at least this first part of my journey.
Let's fast forward to about ten weeks ago. I made an appointment to see my doctor, which is unusual in and of itself. I rarely go to the doctor. I have been lucky to stay healthy enough that I haven't had to go in often. However, I was about at my tipping point. Having been in the health and fitness field for over ten years, I feel like I've been forced to get to know my body very well. It has always been stubborn. I've never been one of those people who could eat whatever they wanted, & "get away with it." While some might not believe it, I'm actually naturally drawn to healthy foods. I have always really loved fruits and vegetables. I was the weird kid that asked my mom if I could bring cut up veggies, & salads in my packed lunch. Don't get me wrong, I LOVE all sorts of sugary junk food too…I have a sweet tooth like you wouldn't believe, but for the most part, a lot of my favorite foods are naturally healthy ones. I have also been through ups and downs with my weight, and in coming to know my body I have found what feels comfortable for me…at my height, and with my build.
SO, back to 10 weeks ago…prior to my making my appointment I'd seen some drastic changes in my body over the past year. Things that had changed for me…my weight increased, my body fat increased, I was feeling exhausted, I wasn't sleeping well, I felt like I was extremely snacky, and I had some weird dizzy/almost blacking out spells. A lot of it I brushed under the rug because…I get up early…being tired is kind of part of that. Not sleeping well tends to run in my family…etc It's easy to try and push those types of things away. However, the weight gain I was not ok with. I workout pretty hard as it is, and I was eating very clean. The fact of the matter is that my caloric intake hadn't increased, my sugar intake hadn't increased, and my exercise hadn't decreased. Scientifically, the math just wasn't adding up. In fact, I started to add in MORE exercise and tracked & restricted my calories more, desperately trying to make my body do what it SHOULD have been doing. Turns out I'm in the fitness industry, and there is a lot of pressure on me to look a certain way. Like I said, I knew my body was stubborn prior, but this was different. Not only were things not responding positively, they were responding negatively. Which might makes sense as to why I was at a bit of tipping point…
I had done a lot of research on what the problem could be, and decided that I should at least get my blood work done to eliminate some possibilities. So, it was to the doctor I went. I had a full check up…blood work and everything. The results came back to show that all my hormone levels were normal. No signs of thyroid issues. However, my blood glucose levels were abnormally high. My doctor went on the tell me that my results were showing that I had somehow become insulin resistant, and that he wanted me to go and work with a specific dietician who he thought could help me reverse this issue.
At this point I will be honest. I was one hundred percent skeptical. I have studied a LOT about food and dietary intake. While I'm not a registered dietitian. I have put a lot of time into learning about how the food we eat affects us. I was actually quite curious as to what this dietician might have to say that I hadn't heard before. Turns out I had a fastball coming at me.
I sat down and learned that I wasn't alone in my current state. It's actually thought that about half of the United States is insulin resistant, due in LARGE part to our common diet. The program that was introduced to me was completely based around controlling my insulin levels, similar to the ketogenic diet, the goal was to retrain my body to become insulin sensitive again…and in doing so to re-train it to utilize fat as the main source of energy.
I instantly began studying the topic. What I was hearing made sense. However, for me, making any health or lifestyle change has to be backed by reason and understanding…and for the record, "So and so just lost 10 lbs in 5 days," is not what I'd call a reason. I need to know the science.
So… here is a snippet of what I learned..Insulin resistance means the body has stopped responding to the hormone insulin. Insulin's role in the body is that of storage of glucose and fat. It also helps our cells function as they should. If there is too much insulin in the body (commonly a result of the food we eat) the body starts to become insulin resistant. Insulin resistance very likely means inefficiency in how the cells of the body are working & excess fat storage. Sugars & carbohydrates are the foods that will spike insulin.
Let me try & break it down simply…We eat food. The food that we eat raises our blood sugar to a certain extent (depending on the sugar/carbohydrate content) The pancreas responds to raised blood sugar by releasing insulin. Insulin tells the muscle, liver, & fat cells to take up the blood sugar and remove it from the blood. If this process happens excessively, the muscle and the fat cells stop listening to the pancreas…and all gets sent to fat storage. This is insulin resistance. The longer this goes on, the "louder" the pancreas tries to get the point across…releasing more & more insulin. This makes the body extremely inefficient. Anytime the blood sugar is raised, the pancreas will give an exaggerated insulin response. Elevated insulin levels stop the body from utilizing fat as a fuel. IN SHORT: insulin keeps fat in the fat cells, where they are NOT utilized as fuel. This isn't good…in fact it is the gateway to a HANDFUL of other chronic & deadly diseases, but that is another post for another day.
So, I was told, that in order to reverse this spiking, I needed to maintain a consistent diet of foods that don't increase insulin levels, (namely fats). This was to the be the start of reversing my insulin resistance issues.
What did this look like for me?
Well…this is where the curveball came at me. I was told that I needed to base my diet primarily around fat. I needed to focus on eating in a low carbohydrate, high fat way. In doing so, I would stop my body from eliciting an insulin response. This would put my body in a state of ketosis.
Many people stress at hearing that word because they confuse it with ketoacidosis. Nutritional based ketosis is controlling the body's insulin response, resulting in a the generation of fatty acids, known as ketones. This means the body is in a state of burning fat. Diabetic & alcoholic ketoacidosis is a metabolic state of toxicity. It occurs when the body fails to regulate ketone production and those ketones become out of control. The blood becomes acidic, and can be deadly. A nutritional state of ketosis will not default into ketoacidosis because the body has regulatory feedback loops that will prevent it from doing so.
When eating in a nutritional, ketogenic way, ketones are measured. A high amount of ketones denotes a low amount of insulin. this is what is desired with this process. So, is eating this way safe & healthy? Yes.
Whoa…that's a lot of sciency talk…I just want to try and give the background explanation as to why this process made sense to me. I wanted you to understand why I felt like this was a process I wanted to pursue.
Now on to what you really want to know? How is going..
I'm happy to say that I have really enjoyed eating the way that I am, and it's been a very positive experience for me. The first couple weeks were definitely an adjustment. It's common for people to feel what is considered a "keto flu," lethargic/tired/low energy/etc…which I did. It makes sense. You are basically starving the body of carbohydrates for a few days, which it is NOT used to. I had to allow for time for my body to make the shift to relying on fat stores for fuel.
I had to re-set my habits. I had to build my meals around fat. This was a change for me, mostly because I'm not a lover of high fat foods like cheese & butter that many people are MORE THAN HAPPY to eat. However, I'm adapting…and I've come up with some BOMB recipes.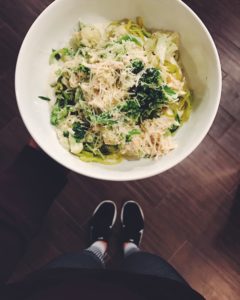 My energy levels have returned, which means my body is working toward utilizing fat as fuel. I have become more of an intuitive eater, and less of a snacker. This actually is the most insane part to me. I never thought that this would be the case. Fat is a satiating food. So, eating mostly fat, means that I don't feel hungry as often. I feel satisfied when I eat. In turn, I'm learning to listen to my body more. The people I have been working with challenged me to stop tracking my food, and to listen to my body. (From someone who could give you a record of my tracked macronutrients for the past…i don't know…10 years…this seemed unbelievable.) I have actually let go of my journaling…it's been so incredibly freeing. I don't feel bloated like I used to on occasion. I am sleeping better…and I've dropped weight and body fat, which THRILLS me. I'm starting to feel like myself again, and I almost didn't believe that was possible.
I'm still in this process, still learning, and still working to be where I want to be. However, I will absolutely say that I'm loving the path I've gone down so far. I'm excited to continue to learn more, and I hope that this will be something that I can utilize to help my clients, readers, & followers in the future! xoxoxo Megs