As I started this process of ketogenic eating, I knew that I was heading into the holidays. I knew that it would be a change to not have the option to be able to eat all the sweets. I usually am good at moderation, but I knew that sugar wasn't an option regardless…SO I was so excited to find that there were some alternative options to the normal holiday goodies I usually enjoy. It actually became kind of fun to decide WHAT exactly I was going to make to go with my family's Thanksgiving meal. I finally decided I was going to attempt to make something chocolate, and for whatever reason…a thick, creamy, chocolate silk pie just sounded perfect. I found a recipe on Ruled.me and adapted it to my liking. I'm not going to like…I was PLEASANTLY surprised with how this turned out. My family even liked it. 😉 PLUS, it's gluten free for those of you who need it to be.
MUNCHER CRUNCHER KETOGENIC CHOCOLATE SILK PIE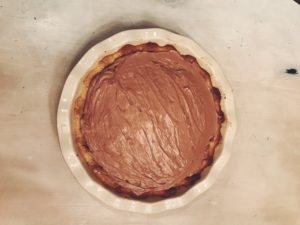 Ingredients for the crust:
1 1/2 cups almond flour
1/2 tsp baking soda
1/8 tsp salt
1/3 cup swerve (or your choice granulated stevia/erythritol sugar substitute)
3 Tbs butter
1 medium egg
1 1/2 tsp vanilla
butter for greasing the pan
Ingredients for the filling:
16 oz full fat cream cheese @ room temp
4 Tbs full fat sour cream
4 Tbs butter
1 Tbs vanilla
1/2 cup swerve (or your choice of granulated stevia/erythritol sugar substitute)
1/2 cup cocoa powder
1 cup heavy whipping cream
3-4 tsp powdered swerve (or your choice stevia drops/sweetener for whipped cream)
2 tsp vanilla for whipped cream
First you will need to make your crust. Preheat your oven to 375. Prep a 9 inch pie dish by greasing it. In a bowl, combine dry ingredients FOR CRUST. mix together. Soften butter, & add to dry ingredients. Mix it in w/a whisk or a fork until combined. It will be crumbly. Add to this mixture the egg & vanilla. Stir with fork until this dough becomes a firm ball. Work dough into pie crust. If the dough is sticking to your fingers, wet them with water slightly. Poke crust  several times with fork to prevent bubbling, and cook for about 10 mins. Remove from oven, and cover edges with tin foil to avoid them burning, return it to the oven to cook for about 6-8 more minutes, or until the crust appears to be golden brown. Set the crust out to cool completely. **As a side note, this crust was delicious. I actually don't even usually like pie crust, & I'd use this again as a base for a dessert**
For the filling, place cream cheese, sour cream, butter, vanilla, swerve, & cocoa powder in a bowl. Mix together until the filling is fluffy. In a separate bowl, mix together whipping cream until it thickens and forms peaks. Add to the cream the 3-4 tsp swerve, & 2 tsp vanilla. Continue to beat until the cream forms stiff peaks.
Fold a few spoonfulls of the whipped cream into the cream cheese mixture and mix GENTLY, allowing the air bubbles to remain in the cream. This helps the pie to maintain a thicker consistency. Continue this process until all of the cream is folded in, and the mixture is mixed through. Scoop this filling into the pie, and smooth the top out. Cover completely, and allow this pie to chill in the fridge for a few hours. I made mine the night before, and it was PERFECT for dinner the next day.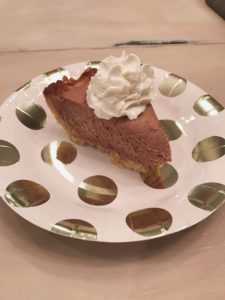 Top with whipped cream, and enjoy…very happily. For those who want to know, if you slice the pie into 10 slices…each slice has about (7 net carbs.)