The crockpot can be one of the best tools for busy people trying to eat healthy, especially if you are wanting to do some meal prep for the week. It requires very little effort to dump some ingredients into a crockpot, & let it do the work for you while you are running around all day. We had this super easy, and very delicious, healthy ranch chicken this past Sunday for dinner. It was a hit!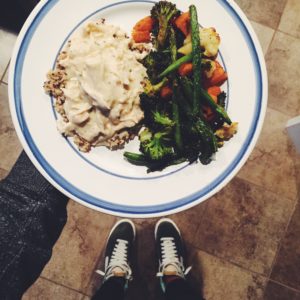 CROCKPOT HEALTHY RANCH CHICKEN : (serves 6)
INGREDIENTS:
4-6 boneless, skinless chicken breasts
1 dry ranch dressing packet
1 can of Healthy Choice cream of chicken soup
8 oz of neufchâtel cream cheese
1/2 cup chicken broth
1 dash paprika
1/8 tsp dried oregano
1/4 tsp parsley flakes
In a large crock pot, combine 4-6 chicken breasts with one dry ranch dressing packet. Cook on low for 4 hours, or until chicken is cooked through & falls apart.
Add in 1 can of Healthy Choice, Cream of Chicken soup, 8 OZ of neufchâtel cream cheese, 1/2 cup of chicken broth, 1 dash paprika, 1/8 tsp dried oregano, & 1/4 tsp parsley flakes. Cook for another 20-30 minutes until all ingredients combine.
Instant Pot update: Place all ingredients in instant pot & cook on high pressure for 18 minutes. release pressure, & shred chicken with a fork or an electric mixer.
Serve over brown rice or quinoa. We paired ours with some oven roasted veggies, & it made for the perfect meal! Remember it's ALWAYS helpful to make some extra, so you have leftovers for lunches or dinners. This cuts your prep time in half! This is a great meal to double, & throw into portioned containers in the microwave to heat up when you're in need of a quick meal!
NUTRITION BREAKDOWN: (for 1 serving) 25 g protein/12 g fat/6 g carbohydrates