While I don't love weighing myself…I don't think anyone does…I do think that it is important when you are trying to reach a weight loss goal. For my clients that are wanting to lose weight, I have them weigh in on a weekly basis. I usually choose Wednesday as their "weigh day," because it keeps them accountable w/both bookends of the weekend. I have used a LOT of different scales in my day, & there have been a lot of things that I've come to like & dislike about all of them. I was excited to try out this new bluetooth scale from Beets BLU.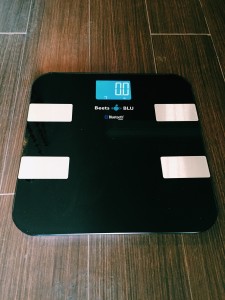 I love the design of the scale. It's really sleek, thin, & lightweight. It is also really easy to use. You can change the settings from LB to KG, depending on what you prefer. I like that it gives you more information than just your weight, offering BMI measurements to help you to know if you are getting closer to reaching your goals.
One of the really cool features of this scale is the fact that it syncs with your smartphone, helping to record & track your progress each time you weigh. I used my IPhone 6 with this device, but I know it is compatible with many other smartphone models. You must have the app downloaded and open on your phone in order to record your stats, which some might consider a nuisance. However, I find it to be super beneficial. This device allows for multiple profiles as well, so more than one person can use it to their benefit. I found the app to be a bit outdated, but as I know this is a new product, I feel like this will likely be improved in the future. It is available on Amazon HERE.