Whenever I'm really trying to be good with my eating, the hardest thing for me is always the snacky moments, those times in-between meals when all I want to do is walk in the pantry & eat all the things I see. These protein balls are a great way to help with those "I need a snack," moments. Clean, full of good stuff, & delicious.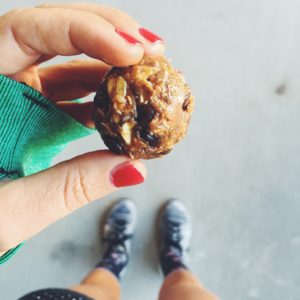 Muncher Cruncher Protein Balls: (makes 20 servings)
1 1/4 cup old fashioned oats (can use gluten free if needed)
 1 scoop chocolate protein powder
1/2 cup almond butter
2 TBS chia seeds
2 TBS sugar free maple syrup (could use agave/honey/real maple syrup)
1/4 cup water
1/4 cup carob chips
Mix all ingredients together until combined completely. Use 1 TBS to scoop up balls. Place in fridge if you plan on eating them right away, or in freezer if you want them to last a bit longer.
Nutrition Facts: (per 1 ball) 82 cals, 4.7 g fat, 7.7 g carb, 1.5 g fiber, 2.1 g sugar, 3.2 g protein