As you know I'm always on the look out for  new fitness gear, so when the awesome people over at Beets Blu contacted me to review their new bluetooth technology, I was more than willing. They sent me a wireless bluetooth heart rate monitor as well as a wireless bluetooth pagertag.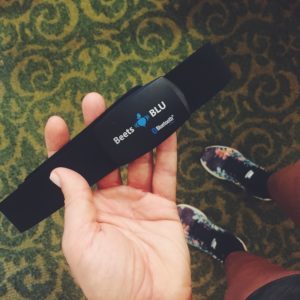 I really enjoy working out with a heart rate monitor for a few reasons. 1) It helps to to know how hard I am really pushing myself. My heart rate is proof of that. 2) It is awesome for my interval workouts, allowing me to target my heart where I want it to be. 3) It allow me to accurately indicate what my caloric burn is with my workouts. Basically, heart rate monitors allow for accuracy. It makes my workouts more of a science.
That being said…I've tried a lot of heart rate monitors. I'm a big proponent of monitors that require a chest strap. I feel like pulse monitors on the wrist just aren't as accurate. Sometimes I feel bogged down with gear…I always have my phone & headphones for my music. If I have a heart rate monitor on I have a chest strap as well as a wrist watch…It just starts to feel like I've got more equipment on me than a science experiment…which is why I instantly became a fan of the Beets Blu wireless monitor. It connects directly to my phone, taking out the need for my watch.
This monitor connects to a variety of different apps that I already use, there is a list of compatible apps on their website HERE. I liked using the "Runkeeper" app as well as the "Mapmyfitness" app. The wireless monitor syncs directly with my phone, and then works right in the app i'm using.
PROS: I felt like this monitor was extremely accurate, and sensitive, no lag-time response here. I love that it syncs with my phone, no extra equipment required…in fact eliminating equipment (no need for a watch). I also loved how easy it was to use. After I synced this monitor to my phone, it was always there. Easy. This was awesome for my outdoor interval runs. I also felt like the sizing was easy to adjust, and the band was comfortable. It stayed right in place.
CONS: Using the bluetooth monitor with my fitness apps and my music all at the same time drained my battery on my phone pretty quickly. I still haven't found an app that I LOVED for my gym workouts where i'm not running. I was able to monitor my heart rate with the BeetsBlu Utility App. However, it doesn't track my caloric burn, time working out, or total increase & decrease in heart rate. I still have some playing around to do there to find an app that I feel is the most beneficial for an indoor workout.
I would totally recommend this product. It's accurate, easy to use, comfortable, and beneficial.
Along with the heart rate monitor, I tried out the Beets Blu papertag. It is such a brilliant idea.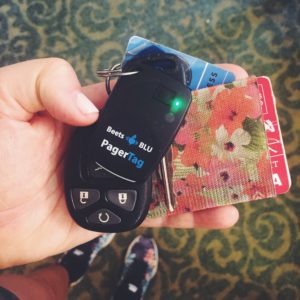 This awesome little device is fantastic for people like me who lose everything…All you do is attach this little device to your keys (dog, purse, child, valuables…what have you…) and sync the device with your phone. With the help of this device, you can find your lost valuables within 33 feet, wirelessly. SO simple, and so awesome! Thank you for saving me from searching for my keys in the dark at 5 am when i'm supposed to be out to door and on my way to to work!