I LOVE socks…Good socks that is. The ones that slide down, give you blisters, feel paper-thin…yeah I want nothing to do with those ones. However, the good socks, I'll take all of them. In fact, if you give me a good pair of socks in a stellar print, I'm quite the happy camper.
When the great peeps over at Bombas Socks asked if i'd try some of their socks on for size I was more than willing. Being as how I wear 2-3 pairs of athletic socks I day I am always in the market.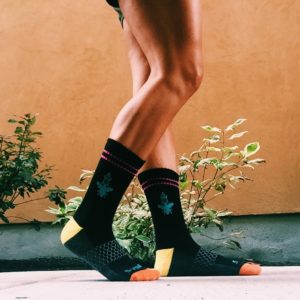 As soon as I tried these guys out, I was instantly sold. So comfortable, and way cute. Here is what I like about them…
They style – I love the heigh of the tall socks, and the low profile of the shorter athletic socks. The different color options are all darling. I tend to be a fan of the black always, but that is just me being me.
Honeycomb Support System – As you can see, around the toe box, there is a honeycomb pattern where the design is created to help distribute pressure evenly, AKA – they are more comfortable.
Performance footbed – The bottom of the sock is also created for comfort, which you can feel instantly when you put them on. They are awesome.
Blister Tab – I LOVE this about the ankle socks. There is a tab in the back that prevents the socks from slipping, making your heels blister free. #awesome
PURCHASE A PAIR – DONATE A PAIR – And lastly, something I think is super awesome, for every pair of Bombas Socks purchased, a pair is donated to someone in need. I love this.
Cute, comfortable, & compassionate…does it get much better than that? I don't think so. Try them out. They rock.