We biked from right by the ferry building all the way to Chrissy Field,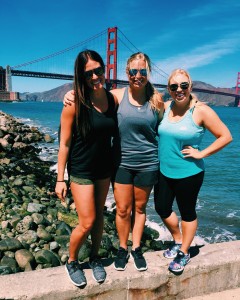 where we stopped and bought some waters & took some pictures. It is an AWESOME view of the bridge. We then continued across the bridge. At this point you can actually go down into Sausalito, & then take the ferry back if you'd like. However, since we'd already done that, we decided to turn around and bike back & have lunch in San Francisco. I'll be honest there are some HILLS along this little adventure. It was a pretty good workout. We ended up biking around 16 miles. I loved it! 🙂
We ate lunch at a little cafe right by Ghirardelli Square called The Black Point Cafe. I really liked it!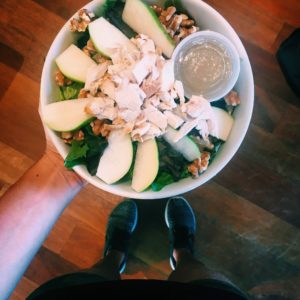 I got their "seasonal" salad w/chicken. We then biked back to the Embarcadero station, & returned our bikes.
Next we headed to Oakland to go to an A's game which was so fun!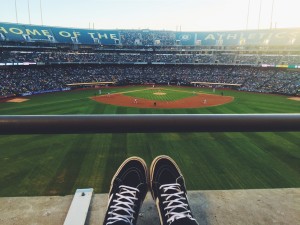 The weather was perfect, and they had a fireworks show after the game, so everyone was able to go down on the field to watch it. Worth it.
DAY 3:
We trekked out to Muir Woods to start the day off. It was awesome. The parking here is a little crazy, but it's worth it!It is a great stop because you could go for 20/30 minutes and walk around and be done if you'd like, or you can take your time, enjoy some of the hikes, and make a day of it. We were there for a few hours because we chose to go on some of the hiking trails. There are trails for those who want a flat, less strenuous adventure, as well as the hiking trails that are more hilly.
We headed back toward San Fran after our adventure in the Muir Woods & Stopped in Sausalito at Cafe Tutti's for lunch. I'll be honest, this place wasn't my favorite. Their ice cream actually looked decent, but  I would have rather gone back to Copita's, or across the street to Lapperts, and just had some ice cream for lunch. 🙂
I knew what was coming next though, so I just waited until we got to the Bi-Rite Creamery. YES PLEASE. We waited about 30 minutes in line here for our ice cream, and it was SO worth it. It was seriously delicious. I went with a scoop of mint chocolate chip, and a scoop of cookies & cream. The cookies & cream was by far my favorite. I LOVED it! Everyone was really happy with this stop.
Next we went to another hot spot we had been told was a must stop, Bob's Donuts. I am not much of a donut lover, but everyone that got some said they were delicious. They are open 24 hours, so this is an easy one to fit into your itinerary at any time. 🙂
I had a friend send me a post on the Seward Street Slides, and I was bound and determined to find them. These long cement slides are so much fun!We found out after that people bring card board to slide down on to make them go faster, which is brilliant. These slides have weird hours, and close at sunset. I think they are also closed on Sunday & Monday if I remember correctly, but well worth a quick stop!
We went to find an incredible view of the bridge above Baker Beach next. This is another spot that is worth the stop if you are looking for a great view. There is a parking lot you can pull right into & go explore. It was gorgeous. Totally worth it.
We ended our last night watching the sun set on Baker Beach. It was the perfect end to a perfect trip. I LOVE San Francisco. I can't wait to go back!
Pages: 1 2