So, let me start by saying my mom has been making this dessert for quite some time. My family members (and a lot of friends now) COVET it. She will ONLY make it with perfectly ripe in season (mostly only Utah) peaches, which means there is only a short window of time that "Peach Dessert," as we affectionally call it, can be made.
Now, let me also mention that it wasn't until a few years ago that I actually tried this dessert. I love fruit, but I don't like fruit in dessert form. No apple pie, no strawberry shake, no peach cobbler…you get it. I don't know what it is, but I am not a fan. This being the case, I happily avoided peach dessert with no problem at all for quite some time because I just assumed I didn't like it. I was very, very wrong. Turns out I love peach dessert. It comes from heaven.
The good news is that it is actually a lighter dessert. My mom has always made it with the fat free & sugar free ingredients due to sugar content and such. Yes, there are still calories, and I absolutely consider it a treat, but on the scale of desserts…it's not too bad!
The Best Peach Dessert in the History of Ever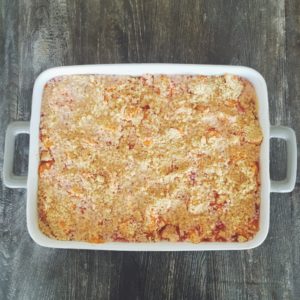 Peel & slice 8-10 ripe peaches
Mix together in a small sauce pan:
1 small box peach jello (fat free/sugar free if you can find it)
1 tbs corn starch
1 cup stevia (you can use regular sugar if you want)
Add 2 cups of water
Bring that to a boil
Stir it and watch it – once it comes to a boil it should be clear, all the sugar dissolved & you can see through it.
Set it aside & let it cool/thicken
In a separate container, mix together:
1 container of fat free/sugar free cool whip
1 can fat free sweetened condensed milk
1/4 cup lemon juice
Crush up one package of sandies shortbread  cookies in a plastic bag (not the pecan ones, just shortbread)
Spread 1/2 of the cookies on the bottom of a 9X13 dish
Next, add the cool whip/sweeten condensed milk mixture
Next, layer all the peaches
Pour the jello mixture over it
Sprinkle the other 1/2 of cookie crumbs over the top
Cover it & Let it set for at least 2-3 hours. It is even better if done the night before.
Try not to devour the whole thing in one sitting…although I always find myself trying to "even the edges," to make the cuts clean. And by that I mean I just keep sneaking bites. Enjoy!