My salads tend to look a lot alike most of the time, so when my mom busted out this yummy salad full of all sorts of different things a few weeks ago it was like a party in my mouth. I loved it! It tasted SO fresh & delicious. I wanted to recreate it ASAP. I changed it up a little bit because I couldn't find all of the ingredients that she used…(I still have no idea what a daikon is…sorry mom, I left that out.) I also added chicken to make it a main dish instead of a side. I LOVED how it turned out.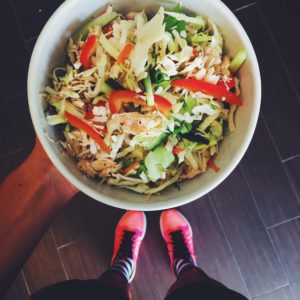 Chopped Asian Chicken Napa Cabbage Salad with a Sweet Asian Dressing
Ingredients: Chop the following & combine in a bowl
1 head of napa cabbage (I actually used a bag of pre cut cole slaw to save time)
1/2 red bell pepper sliced very thinly
3 scallions, white and pale green parts only, chopped or julienned
1/2 cup snow peas thinly sliced
1/2 cucumber julienned
Add in 7 oz of chicken. I used one can of the Costco chicken breast that I'd seasoned with black pepper & garlic salt.
Sweet Asian Dressing: whisk together the following
1/4 cup olive oil
zest and juice of one lime
1 clove of garlic, minced
sprinkle of crushed red pepper
3 tsp soy sauce
2 TBS rice wine vinegar
1-2 tsp stevia in the raw (or regular sugar if you would rather use that)
salt to taste
Combine the chopped vegetables, chicken, and dressing together and stir.