Y'all know that I love food, & I love to eat out. Eating out usually means spending time with the people I love eating all sorts of delightful things while doing so. I often here people say, "I could eat healthier if I just didn't eat out so much." Well, the truth is, eating healthy is a decision, regardless of whether you are at home/work/with family/at a restaurant/in your car/or wherever else you may find yourself. Life is busy. You have to decide to be consistent with your healthy choices, no matter where you may be. Some simple tips I have to make healthy choices when eating out are:
Go with LEAN protein and veggies. – This can help eliminate a lot of options on the menu that are extremely processed, high in carbohydrates, high in starch, and high in sugar. Grilled chicken, fish, lean cuts of beef, and vegetables are available almost everywhere. Lean protein doesn't mean deep fried. Lean protein doesn't mean in sandwich form, ditch the bun/tortilla & eat it solo or wrap it in lettuce.
Skip the bread basket & the chips & salsa. – When you sit down to a table, you are usually hungry. Instead of reaching for the basket of free warm bread that is CALLING your name, drink some water, and get your order out there asap. You can add hundreds and hundreds of calories to your meal before you even start eating if you dive into the high calorie extras first.
Watch the extras. – Speaking of extras, sometimes the "extra" things, (cheese, chips, dressing, sauces) can add hundreds of calories. A lot of the time, they don't even do a ton for the flavor of the meal. You'll help yourself out by leaving them alone.
Salads aren't always the best option. – Salads can be EXTREMELY healthy. They can also be EXTREMELY unhealthy. Lots of little things can add up quick when you factor in a half a cup of dressing, cheese, tortilla strips, croutons, guacamole, eggs, etc.
Always get your dressing on the side. – ALWAYS. You don't need all of it. Vinaigrettes are a better option than creamy dressings. Dip your fork in, or drizzle a bit on top. Use salsa if it is an option. Salsa has a ton of flavor, and is super low in calories.
Check the nutrition facts before you go. – You may be surprised to find some of the items you thought would be "healthy" are not. Being in the know is ALWAYS a better idea.
Don't be afraid to make special requests. – Most eating establishments are more than happy to accommodate your healthy eating requests. Ask for things to be grilled, ask for cooks to use olive oil instead of butter, ask for your veggies to be steamed…etc.
With these tips…here are some of my favorite healthy eating options in Utah…you may recognize a few of them from my IG account.
Cafe Rio: Grilled Chicken Tostada/no rice/no beans/extra lettuce/extra pico/guacamole/dressing on the side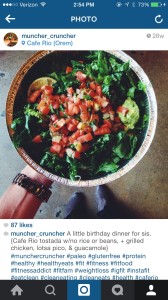 The Habit: Grilled Chicken Club wrapped in lettuce w/avocado/tomatoes/mustard/no bacon/no mustard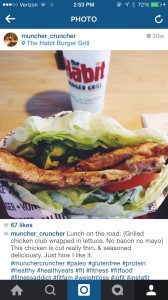 Aubergine & Company: create my own salad/mixed greens/broccoli/tomatoes/beets/zucchini/sunflower seeds/dressing on the side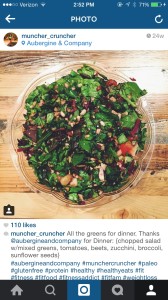 Whichwich: Turkey lettucewich/allthe veggies/pesto/dijon mustard/black pepper/oregano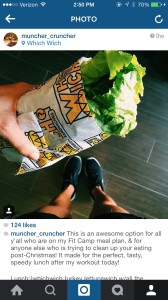 Jason's Deli: one trip side salad bar/spinach/beets/mushrooms/peppers/broccoli/zucchini/mushrooms/cucumbers/1 egg/cottage cheese/ground black pepper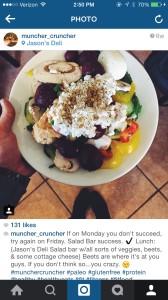 Cubby's: Apple Pecan Salad/no cheese/dressing on the side
Bajios Grill: Small Honey Chicken Salad/no rice/no beans/corn/caramelized onions/extra lettuce/extra pico/mango salsa/guacamole/dressing on the side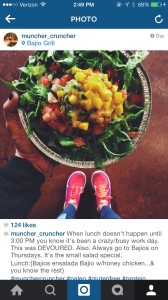 Chipotle: Chicken Salad/no rice/no beans/grilled vegetables/corn salsa/extra pico/dressing on the side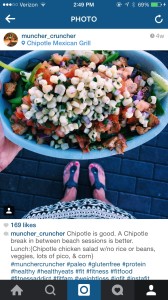 Tacos 180: Cascabel chicken salad/fire roasted poblano sauce/cilantro/carrots/jicama/cucumbers/pickled onions/salsa/dressing on the side
Wild Zucchini Grill: Chicken salad/mixed greens/grilled vegetables/sundried tomatoes/mushrooms/lots of balsamic tomatoes/zucchini/cucumbers/peas/green beans/corn/dressing on the side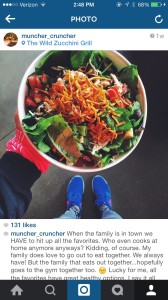 Good luck making smart choices, & happy eating!!