A few months ago, I was on a hike with some of my amazing friends…these friends…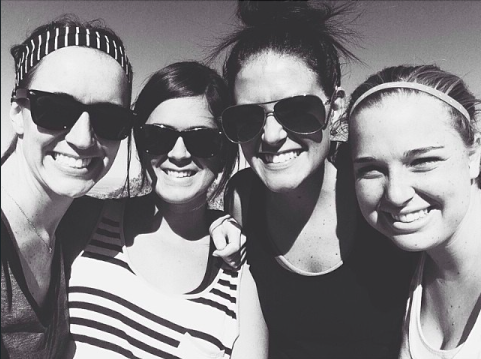 and we started chatting about our top 10 "must have" lists, or favorites, if you will…favorite beauty products, favorite articles of clothing, favorite home items…etc. Since then I have constantly find myself making mental notes of "favorite thing" lists all of the time. I wanted to share my favorite fitness products that I currently cannot live without.
Lululemon speed shorts. I fought the Lululemon phenomenon for a long time because their stuff is pricey, and I knew the second i tried it I would fall in love. Well, I was right. I am a HUGE fan of their stuff, particularly their speed shorts. They fit AWESOME. I love the waistband. They are so comfortable, plus they are darling.
GapFit mesh tank. I may or may not own this tank in 4 different colors. I LOVE it. It fits so well. It breathes. It is super comfortable. It is cute. It washes well. It's awesome. Get one…or 4.
Nike Roshe Runners While I wouldn't recommend these for running. I LOVE them for lifting weights, cross training, and just kicking around town. They are like walking on clouds. So comfortable. Plus, anything green and neon I am always on board with.
Skullcandy Jib Earbuds.I have mentioned several times that I love music. It is what gets me through my workouts. I have been completely converted to these earbuds because they stay put, and they are extremely comfortable, even when i'm sweating like crazy. They also block out outside noise which I love. It helps me to focus on the current show I am hooked on. Which brings me to my next must have.
Netflix. You may not consider this a "fitness product" but I totally do. If you are trying to figure out how to make it through your cardio, stop staring trying to entertain yourself by people watching (oh wait, I still do that too…) and find a good series to watch on Netflix. I try to keep my TV watching to a minimum, so it is a total treat to me to get my intervals on while watching Serena and Blair duke it out, or Meredith and McDreamy reconcile differences…again, or allowing old episodes of One Tree Hill to take me away. Worth it.
TRX trainer. Anyone who has worked out with me knows my love for the TRX. It is a simple contraption that uses straps to work with your own body weight to get a KILLER workout. I use them to train my clients all the time. They are fantastic because they are portable, so you can literally use them anywhere. They are great for people who are rehabbing injuries because they allow you to displace weight when necessary. They are awesome.
Garmin. While I may not be doing much distance running these days, I LOVE my Garmin. I own the Garmin Forerunner 210. It is a GPS enabled Garmin that tracks distance, calories, pace, time, etc. I love it because I can clock my heart rate, time my outdoor intervals, and see how hard I am really working. It's fantastic.
HMDX Jam Wireless Speaker. I have this tiny speaker, and it BLOWS me away with how loud this little thing is. I will use this when I'm working out outdoors with my clients and it helps so much to keep some tunes blasting while we do so.
GapFit Gfast Leggings. When I find a good pair of leggings I get really excited about it. These GapFit leggings are just the right thickness, they wash well, and they are really comfortable. They also frequently go on sale, which makes me love them even more.
Shaka Laka Chapstick. This is another one you may not consider a fitness product, but I %100 do. I cannot workout with chapped lips. It ruins my whole workout. My niece turned me on to this AMAZING chapstick that makes me want to lick my lips. I love the Maui Mint and the Coconut. This product can be a bit hard to find. If you live in Utah county, it is available at Will's Pit Stop in Provo. Otherwise, you may want to get it online. It is real good.